Are you dealing with a shortage of skilled labor? Like many manufacturers you probably have a highly skilled but older workforce, so it's imperative to keep those workers happy, healthy and operational as long as possible. Injuries can sideline an effective worker, slow down production, affect product quality and hinder the transfer of knowledge to the next generation.
Injuries on the job cost businesses and their employees a significant amount of money, even if the injury doesn't seem serious, such as a strain, sprain, soreness and general pain. According to the U.S. Bureau of Labor Statistics (BLS), private industry employers reported 2.8 million nonfatal workplace injuries and illnesses in 2019. Of those, manufacturing accounted for 15 percent of all private industry nonfatal injuries and illnesses.
Industrial lift assist solutions by 3arm America can help increase safety and productivity in manufacturing workplaces by preventing injuries and increasing employee well-being, and thereby positively impacting your bottom line.
Most Common Manufacturing Worker Injuries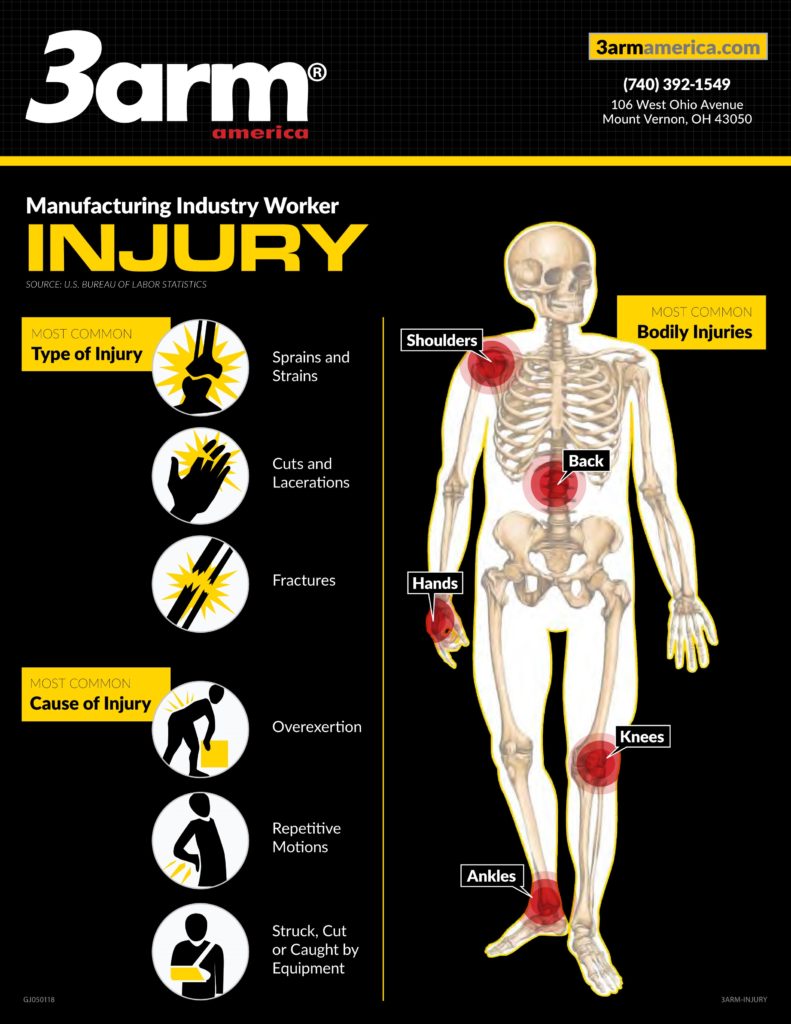 Most common types of injury
Sprains and strains
Cuts and lacerations
Fractures
Most common causes of injury
Over-exertion
Repetitive motion
Struck, cut or caught by equipment
Non-fatal injuries and illnesses to manufacturing workers resulted in a total of 32,470 Days Away From Work (DAFW) cases of sprains, strains or tears (28.0 percent); 16,790 cases of soreness or pain (14.5 percent); and 15,380 cases involving cuts, lacerations, or punctures (13.3 percent).
The Most Common Types of Injuries

The BLS reports over 50 percent of non-fatal occupational injuries resulting in missed work are caused by musculoskeletal disorders (MSDs), sometimes called "ergonomic injuries," and cuts, lacerations and fractures caused by accidents. The most common areas affected by these injuries are the shoulders, back, hands, knees and ankles.
Routine tasks performed over time can create pain and injury. In fact, overexertion and repetitive motion are the primary causes of MSDs. These injuries occur when the workers use muscles, tendons and ligaments to perform tasks with heavy tools or in awkward positions. Repeatedly lifting a heavy tool can also cause accidents, such as contusions or fractures.
Examples of a MSD may include pinched nerves, carpal or tarsal tunnel syndrome, sprains, strains and other connective tissue disorders, resulting from overexertion or bodily reaction. Using an ergonomic solution like a 3arm lift assist device, which renders tools weightless, can prevent many of these injuries from occurring.
The Cost of Musculoskeletal Disorders in the US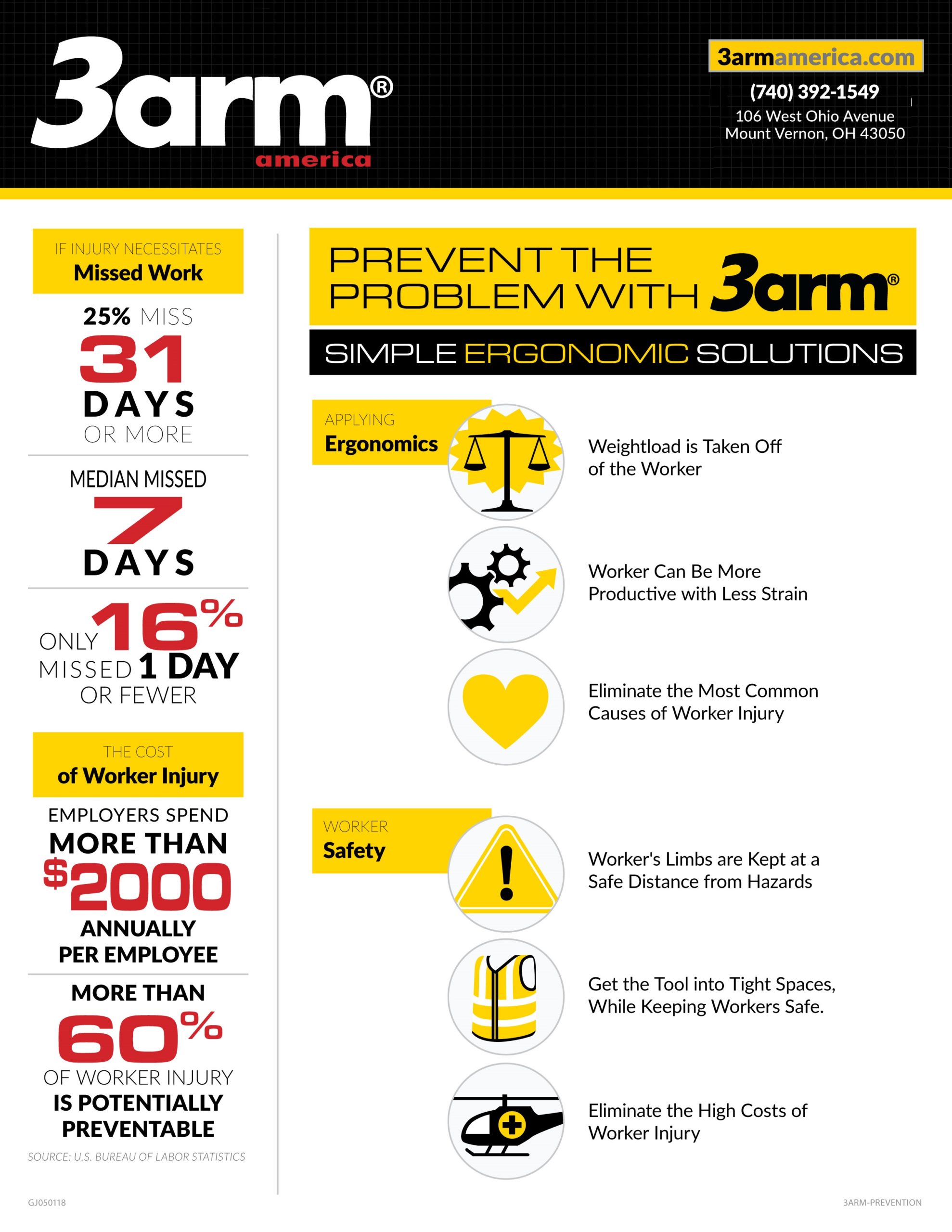 The statistics can be surprising when looking at the days employees miss from work due to MSDs. In 2018, of all the cases of Days Away From Work due to injuries, approximately 30 percent were due to MSDs. However, over 60 percent of worker injuries are potentially preventable.
That's a significant percentage that can potentially be prevented with targeted solutions such as ergonomic equipment and tools.  Consider the following statistics about worker injuries:
The median days away from work for MSD cases was 12 in 2018.
If an injury necessitated missed work, 25% of those employees missed 31 days or more.
Only 16% missed one day or fewer.
28% of the MDS cases were in the manufacturing and construction industries.
For those MSD cases where the age of the worker was reported, workers age 45 to 64 had an incidence rate of MSDs of over 30 cases per 10,000 full-time workers in 2018.
Worker injuries cost employers more than $2,000 per employee annually.
Save an Arm and a Leg
An investment in an ergonomic lift assist device may seem hefty until you calculate the cost of an injury to just one of your employees. The US Department of Labor provides an online calculator through their OSHA "$afety Pays" program. Employers can use the calculator to assess the impact of occupational injuries and illnesses on their profitability. Using the company's profit margin, the average costs of an injury or illness, and an indirect cost multiplier, the calculator projects the amount of sales a company would need to generate to cover those costs.
We'll use examples of the direct and indirect costs of two scenarios on a company with a 3% profit margin:
1) A repetitive motion injury such as carpal tunnel
2) An accident that causes a fracture
As you can see, the combined costs are hefty and the sales to cover total costs are staggering.
Total Costs for Injury for a company with a 3% Net Profit Margin

Carpal Tunnel
Fracture
Estimated Direct Costs
$30,963.00
$54,856.00
Estimated Indirect Costs
$34,923.00
$6,341.00
Combined Total Cost
$65,886.00
$115,197.00
Additional Sales to cover Indirect Costs
$1,134,100.00
$2,011,386.00
Additional Sales to cover Total Costs
$2,165,100.00
$3,839,900.00
OSHA estimates that just one carpal tunnel claim can cost a company almost thirty-one thousand dollars in direct expenses and another thirty-four thousand in indirect expenses. That's an easy justification for investing in an industrial lift assist device by 3arm.
Working Without Industrial Lift Assist Equipment Can Be Harmful
Performing any type of work with heavy tools, conducting tasks in awkward positions, or doing repetitive tasks without ergonomic aid has many negative ramifications on employees and the company:
Reduced safety. Operator fatigue can result in accidents and injuries to employees. Inattention to tool placement or misplacement of tools can result in damage to expensive tools and the products they are working on.
Long-term injuries. Operators can develop physical damage over time due to the repetitive motions and the possible associated torque from using tools such as pneumatic impact wrenches.
Increased costs. Employee injuries, damaged tools and products, inconsistent quality and inefficient processes result in additional workers' compensation claims, as well as increased scrap, takt time and expenses.
Employee Turnover. Employees who are exposed to injuries and safety issues will eventually leave to find better employment, taking industry knowledge with them.
Potential new employees will take note of the physical demand required. They are more likely to take a position that includes the aid of an ergonomic lift assistance device like 3arm.
Team Morale. You know how important your team's morale is for productivity. So it's easy to see how the assistance of 3arm can also lift morale providing a quick boost to productivity and job satisfaction.
The Benefits of Ergonomic Tools for Manufacturing
Ergonomic lift assist solutions by 3arm America provide many benefits, including:
Takes weight load off the worker
Prevents accidents because tool is attached to arm
Reduces strain so workers can be more productive
Prevents repetitive injuries and strains
Eliminates most causes of worker injury
Allows social distancing
Keeps workers limbs a safe distance away from hazards
Allows workers to get tools in tight spaces safely
Significantly reduces the high cost of worker injuries
Industrial lift assist solutions by 3arm America can solve some of the problems involved in the manufacturing labor shortage by preventing injuries and increasing workplace safety and productivity. And they have the added benefit of positively impacting your bottom line.
Read our case study on how 3arm Lift Assist Solutions can help prevent ergonomic injuries and increase safety and productivity in Underbody Assembly Work.
To see how a 3arm ergonomic solution can be designed by our team of experts to fit your needs, check out our custom 3arm configuration tool or contact us at 3armAmerica.com