Company: Rhino Tool House
Website:  rhinotoolhouse.com
Address:  7575 Westwinds Blvd., Concord, NC 28027
Phone: 800.829.4174
Areas Covered: US east of the Rockies
About Rhino Tool House: 
Rhino Tool House is a family of brands dedicated to quality, safety, productivity, and innovation. Their goals are simple; make manufacturing easier, smarter, safer, and more efficient.
A specialized industrial distributor, Rhino Tool House's mission is to help customers succeed and accelerate performance by improving productivity quality and safety in their manufacturing facilities. They do this by continuously focusing on leveraging the innovation in their product portfolio and identifying new innovations in the marketplace, then delivering that technology to their customer base through their extensive network of sales and application engineers.
Rhino Tool House has a team of over 50 product and project managers, as well as application specialists that deploy to support sales engineers throughout the country. Their focus is finding automation solutions for assembly, as well as material handling, MES worker guidance systems, manufacturing, execution systems, software systems, and anything else that helps customers to be turnkey. 
In material handling applications, Rhino Tool primarily focuses on custom material handling equipment. No two applications are alike and are typically custom equipment. They will design overhead cranes, conveyance systems, manipulators, carts, lift tables, and industrial equipment to improve safety, quality productivity, and ergonomics.
Applications that are improved by 3arm products:
Torque reaction
Mid-part manipulation
Some balancing applications
Rhino Tool House specializes in designing solutions for assembly lines, whether it's starting up a new line that need a solution to lift a part or move a part. The capability of 3arm products helps engineers designing for continuous improvement, whether it be ergonomic safety or productivity improvements. If an existing assembly line needs to produce more parts or the number of stations needs to be increased, an engineer looks to address that with technology, and 3arm lift assist devices can help increase productivity and reduce accidents and injuries.
Rhino Tool House has designed 3arm rolling cart systems for target reaction solutions – holding an electronic tool to put on iron fastening bolts and reacting to torque up to about 147.5 ft-lb/200 Nm. They've also designed a zero gravity reaction arm cart with a trolley column and a 3arm lift assist arm and outfitted it with the controls for intelligent fastening tools to create a consistent process for automotive underbody chassis work.
Rhino Tool House Brands: 
Distribution:                       Manufacturing:                   Service:
Rhino Assembly                 Hovair                                   The Tool House
The Tool House                  GD Hoist                               RAM Service Group
Buckeye Tools                     FXD Torqe Tools                 CTR
KA Technologies                 RAM Service Group
Excel Air Tools
Territory: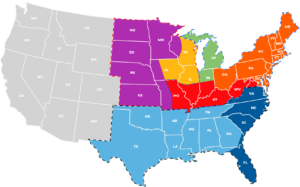 Contact Info: 
Rhino Tool House
888-727-7882
marketing@rhinotoolhouse.com