The market for scanners and optical measuring equipment in manufacturing is growing and driven by emerging trends like the Internet of Things (IoT). This is especially true for aerospace, medical and automotive design. The market is projected to grow at a CAGR of 9.10% during 2023-2028 to attain a value of USD 8.51 billion by 2028.
According to the Expert Market Research Global 3D Scanning Market Outlook, the majority of  clients are corporations and research groups. EMR states that the quality control and inspection market sectors make the most use of this technology given their ease and convenience.
Advancing technology in airport security and manufacturing units, among others, are supporting the growth of the industrial scanner market. EMR's report finds that, by type, the fixed CMM (Coordinate Measuring Machine) based segment accounted for the largest share of the market while laser scanners are also growing in popularity due to their precision and speed.
Because many scanners can be heavy and are expensive and sensitive investments, pairing these with an ergonomic tool-holder is a wise investment. Tool-holding arms by 3arm America take the weight off the operator and allow the scanner to be locked in place, which increases accuracy and reduces operator injuries and damage to the scanners. Using a 3arm protects your company's valuable production assets: your employees, scanners and parts.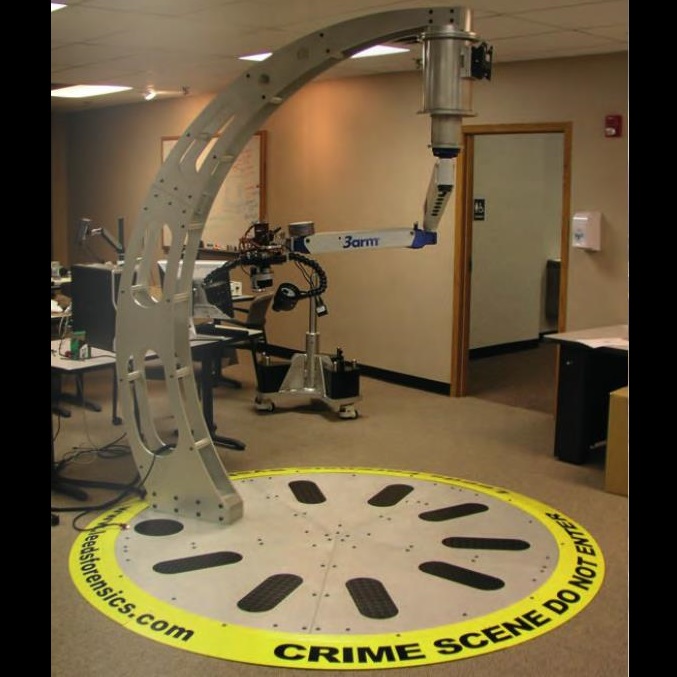 Equipment for scanning, measuring, and image capturing.
Most scanners used today are 3D scanners – devices that capture 3-dimensional data of complex shapes and surfaces by using lasers, structured light, optical light, X-ray or computerized tomography (CT). Scanners can create entire 3D digitized models of physical objects in seconds and can be used for a wide range of industries from construction to manufacturing to medical. The largest markets for these scanners:


Automotive
Aerospace and Defense
Healthcare
Architecture and Construction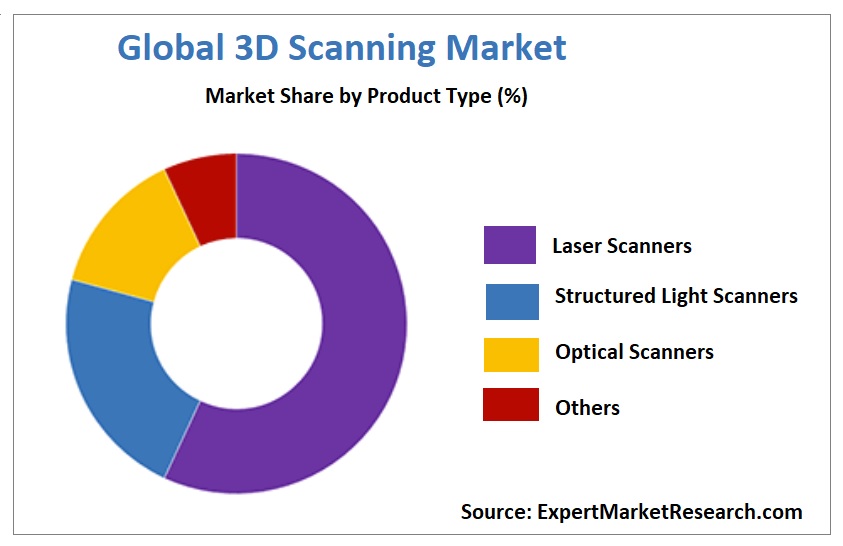 Some popular types of scanner technology:
Optical Metrology: Used to measure such things as dimensions, distances and temperatures and primarily used in quality control for manufacturing, the testing and designing of aerospace parts.
Portable Scanners: Make the process of scanning more accessible and are used in:
Product design to facilitate rapid prototyping and manufacturing
Crime scene documentation & accident reconstruction
Body scanning
CGI and scanning actors, sets, and props for visual effects.
Coordinate Measuring Machines (CMM): Used for the growing use of 3D data in modeling and analytical applications, especially in the automotive industry.
LiDAR: This scanner technology is used In the architecture, engineering, and construction industry to scan buildings and transform them into as-built 3D virtual models.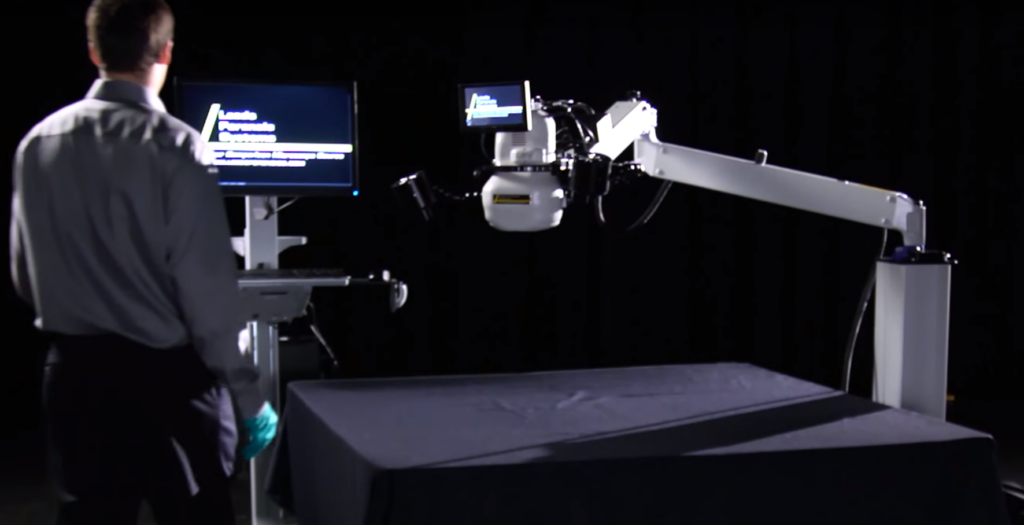 Laser Scanners: Laser scanners are gaining in popularity. In fact, the American Society of Mechanical Engineers (ASME) states that lasers allow engineers to design products that require tight tolerances and are thus becoming the go-to manufacturing technology for industries that rely on proto-typing. Aerospace companies and medical device manufacturers that design smaller and more complex products are also increasingly using laser scanners.
Laser scanners are a huge boon to manufacturers who want to ensure employees and equipment remain safe. The safety laser scanner market is growing and accounts for almost 15% market share of the global laser scanner market.
Benefits of Using Ergonomic Arms For Non-Contact Scanning
Pairing industrial scanners with a sophisticated and flexible ergonomic arm is necessary for employee safety. User fatigue is a real concern as many scanners can be heavy or, depending on the task, users must move the devices in paint-like strokes. These issues can cause musculoskeletal disorders, which will add to a company's operational costs.
An ergonomic arm, like the tool-holding series of arms from 3arm America, lowers the risk of injuries and protects expensive scanners and other assets from damage.  See how a Series 3 by 3arm allows an operator to effortlessly maneuver a 3D white light scanner and lock in place for precision scanning.
Why 3arm tool-holders are the best choice for your scanner technology
Ergonomic arms have multiple joints and axes to allow flexible movement and positioning of a laser scanner. Tool-holding arms by 3arm America can hold instruments up to 132 lbs. in a weightless state for the operator. They allow operators to work with increased precision in a full range of motion and safety with their lockable joints, and they reduce the risk of accidents and repetitive motion injuries. .
3arm America's Series 3 tool-holding arm is ideal for use with scanners. This workhorse comes with a tilting and radial arm allowing for 360-degree movement at both joints. It also has the highest weight and torque ratings. The arm's vertical reach is 42" and the horizontal reach is 55", and reach can be increased with extensions or swing beams.
3arm's ergonomic arms outrank their competitors through these key features:
Holds weight up to 77 lbs. (35 Kg)
Brake options for complete or partial lockup
Handles torque up to 479 ft-lb (650 Nm)
Stationary or mobile options
Heavy-duty construction with no pinch points for safety
Gripping configurations for numerous applications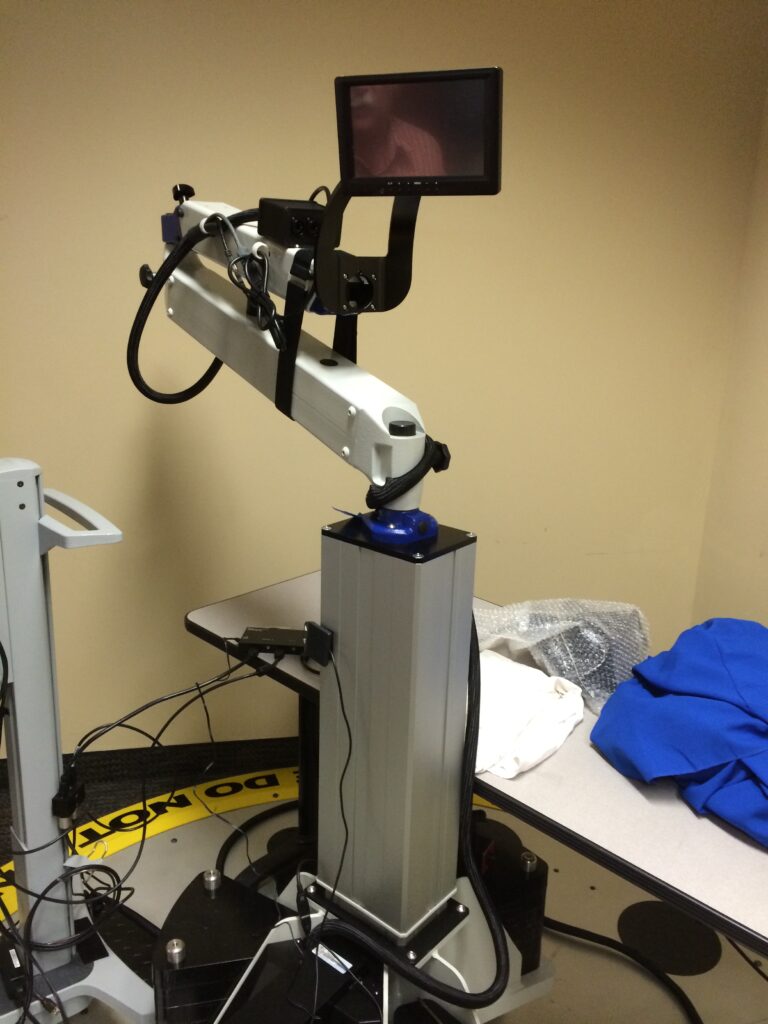 Scanner Applications with 3arm Tool-holders
Using scanners with ergonomic arms can improve the accuracy, speed and efficiency of inspection, imaging and measurement tasks in various industries, such as aerospace, automotive, food & beverage, manufacturing, engineering, consumer electronics, construction and medical.
3arm's heavy-duty construction is important when using scanners in manufacturing settings, environments known to be hard on equipment.
3arm industrial lift assist arms improve the quality and reliability of precision work and the 3arm team has designed ergonomic arms for use with scanners in a diverse range of industry applications, such as:
Safety:
Safety laser scanners are designed to protect personnel from injury. They can be mounted to detect undesirable entrances into hazardous areas. For example, they have been mounted to 3arms to easily scan personnel for radioactive material at the entrance of laboratories.
Medical Scanning and Treatments:
3arm has designed medical arms that have 360-degree maneuverability, hold laser scanners in a specific position and lock them in place to ensure safe and precise scanning of the patient.
Automotive Manufacturing:
For the automotive industry, 3arm tool-holding arms allow operators to easily maneuver manual 3D scanners to digitalize the surface of parts, which is often used in retaining quality control of molded, casted and pressed parts.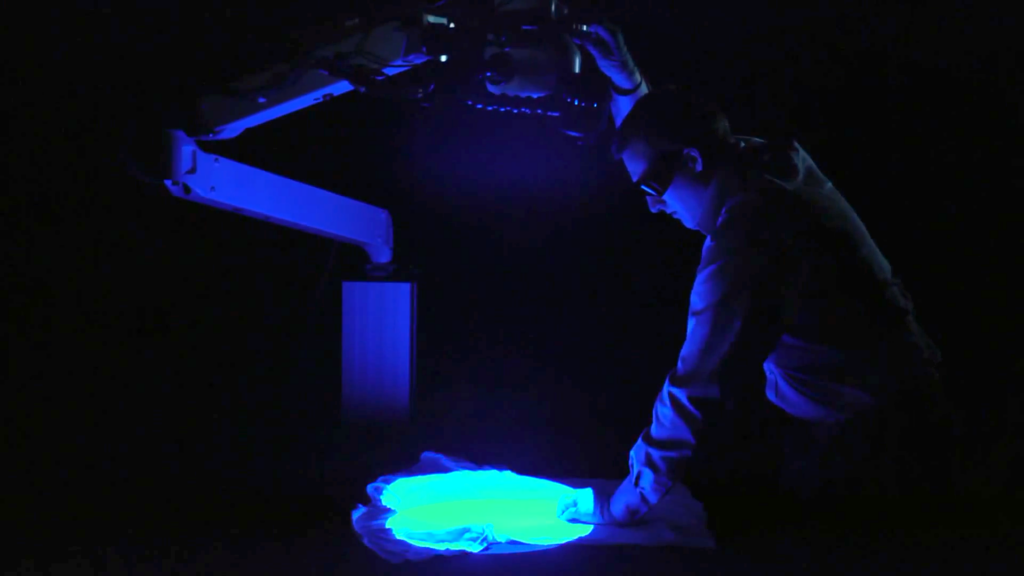 Forensics:
3arm ergonomic arms have been used in the analysis of trace evidence from a crime scene. The scanners are mounted on a tool-holding arm and the operators can zero in on a speck of evidence and analyze it.
Metrology:
Lasers for surveying and measuring can be very heavy, so 3arm tool-holding arms have been used to take the weight off the operator. For example, operators in the construction industry can set the laser and lock it in place, then put their markers out to make sure the measurements are straight level and square.
In-House and in the Field: 3arm Ergonomic Arms Make Your Scanning More Seamless
Scanner manufacturers and end users can take advantage of using 3arm's durable, industrial ergonomic arms by:
Operators can use any scanner safely with ergonomic arms by following best practices for operation and choosing the right scanner and arm configuration for their specific application and environment. Contact the ergonomic design specialists at 3arm to see what we can design for your scanner application.