If you're an operations manager in manufacturing, you know how hard it is to retain quality employees. And with today's labor shortage, it's even more critical to ensure your skilled help isn't injured on the job and knows your organization values their health.
This is where an ergonomic lift assist arm that does the heavy lifting becomes an invaluable tool to help prevent worker injuries, relieve repetitive strains and retain key employees.
3arm's Pick & Place Manipulator arm is a powerful ergonomic tool that helps operators with the pick and place function, rendering the part weightless and relieving torque of movement off the operator. The operator carries out the work process with the support of the Manipulator to ease the burden of lifting the part.
The Manipulator can be fitted with a variety of end-of-arm gripping configurations to pick up and move parts up to 110 pounds to and from conveyors, assembly lines, CNC machines and more. Gripper configurations include jaws, which can be custom configured to securely hold a part radius. There are magnetic grippers perfect for steel parts, especially for handling large sheets Vacuum grippers are ideal for handling large glass parts, such as automotive windows and customizable jaws that ensure a safe, secure grip on any shape or size. The Manipulator gripper systems allow the precision orientation and placement of heavy objects safely and efficiently.
Industrial Lift Assist Devices for Manufacturing
Many applications can benefit from a 3arm pick and place Manipulator arm, including:
Machining Shops
Lifting and positioning heavy parts in and out of a CNC machine
Loading and changing large, heavy tool-holders
Lifting and moving large containers of paint or adhesives
Lifting heavy, unwieldy slabs of metal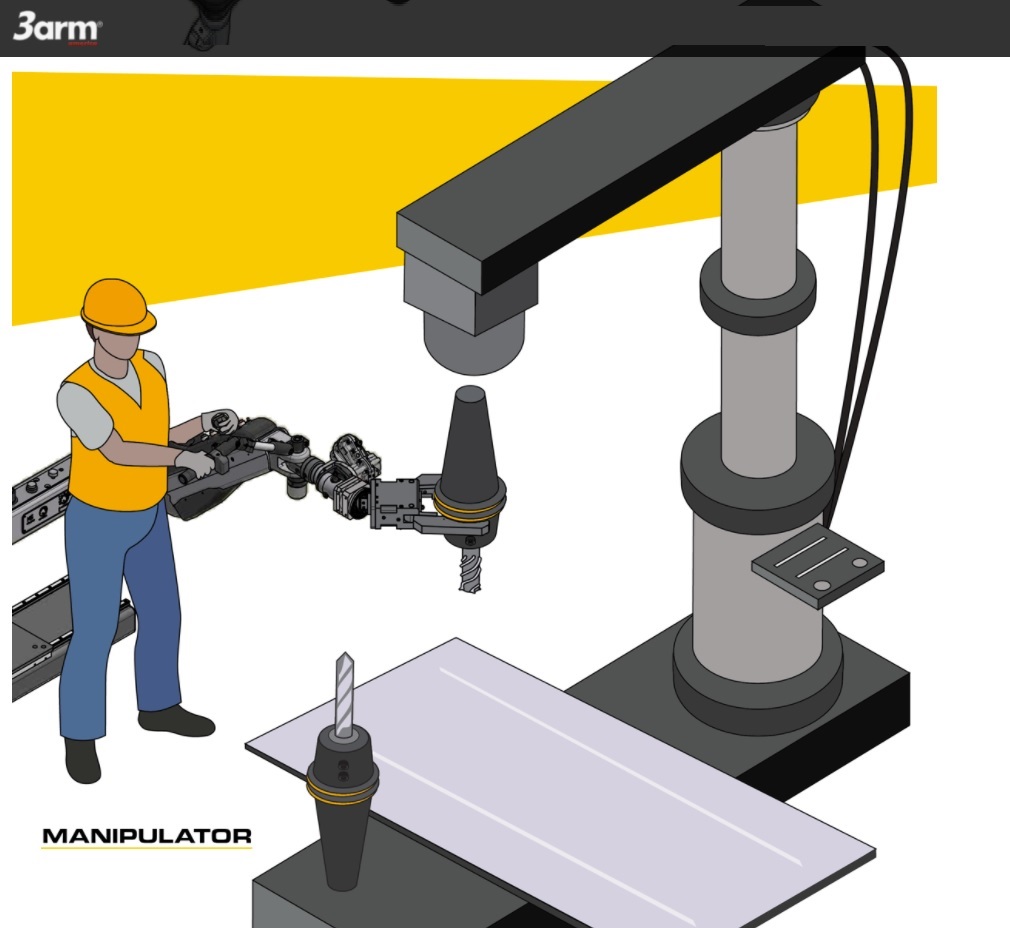 Assembly
Picking heavy parts off one belt to place on another
Positioning large and cumbersome parts for fastening or welding
Loading and packaging
Automotive
Picking and placing large, heavy or unwieldy parts like windshields or door panels
Lifting and placing tires
Food & Beverage
Moving large containers of product to mixing stations or loading
Ergonomic injuries caused by the strain of picking and placing heavy and/or large parts can cause "ergonomic injuries," also known as musculoskeletal disorders (MSDs). Operators are can also be susceptible to as cuts, lacerations and fractures caused by accidents. 
The BLS reports over 50 percent of non-fatal occupational injuries resulting in missed work are caused by musculoskeletal disorders, and the most common areas affected by these injuries are the shoulders, back, hands, knees and ankles. 
Routine tasks performed over time can create pain and injury. In fact, overexertion and repetitive motion are the primary causes of MSDs. When the workers use muscles, tendons and ligaments to perform tasks with heavy tools or in awkward positions, these types of injuries occur. Repeatedly lifting a heavy tool can also cause accidents, such as contusions or fractures.
Rendering these parts weightless by using a 3arm Pick & Place Manipulator Arm takes the strain off the operator and allows them to do their job in a safer environment and be more productive over time.
What is a Pick & Place Manipulator Arm?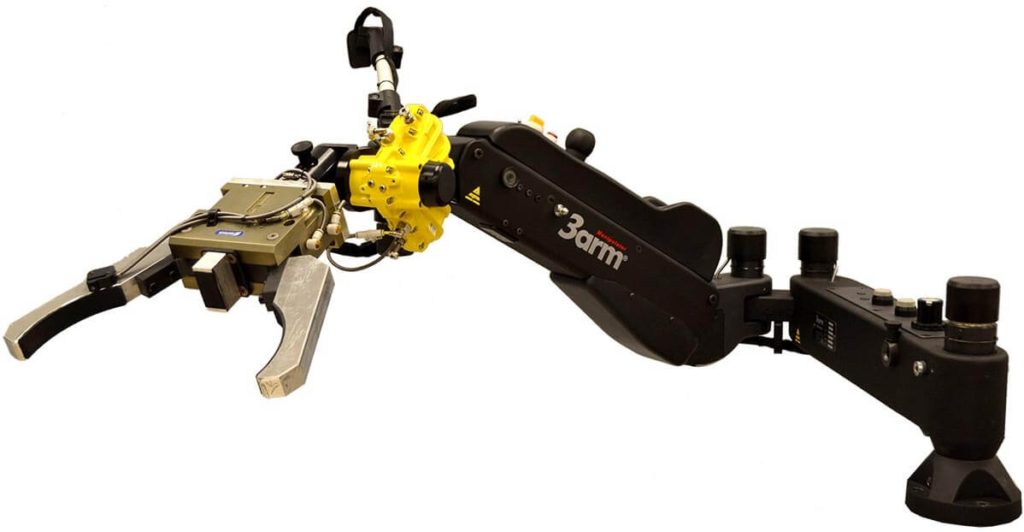 The 3arm Pick & Place Manipulator Arm is the only arm specifically designed for pick and place operations. It can be top mounted from a ceiling or beam or bottom mounted to the floor or a trolley. The pneumatic Manipulator can be fitted with a variety of gripping systems to set and center loads including jaws, vacuum, magnet or custom-designed grippers. Added flexibility is provided by the variety of head members available, including optional rotating and/or revolving head assemblies and safety handles and position locking brakes.
3arm's tool-holding series of ergonomic lift assist arms are perfect for mounting heavy tools and instruments, while the 3arm Pick & Place Manipulator arm allows the precision orientation and placement of heavy objects safely and efficiently for safer, more accurate working and increased productivity.
Benefits of Using a Manipulator Arm by 3arm America
In addition to creating a safer work environment for your operators, a Pick & Place Manipulator arm by 3arm has the following benefits:
Prevents the most common types of worker injuries, reducing the cost of injuries in manufacturing
Allows a safer distance between workers helping to prevent the spread of viruses
Relieves repetitive strains, reducing days away from work
Eliminates fatigue, increasing productivity
Improves accuracy and quality
Increases production and your bottom line
Prevents accidents that can cause
Worker injury
Damage to equipment
Destruction of workpieces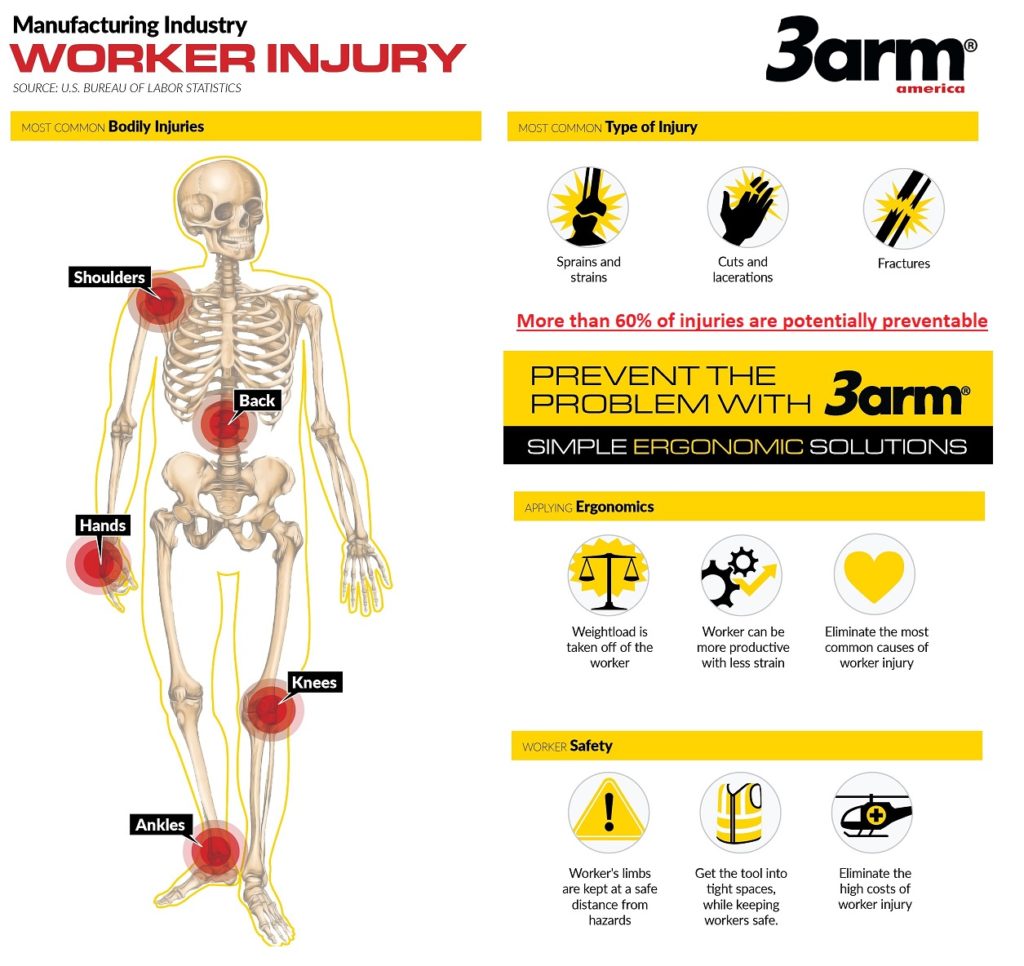 The statistics are startling when looking at the number of days employees miss from work due to MSDs. In 2018, approximately 30 percent of all the cases of Days Away From Work due to injuries were due to MSDs. However, over 60 percent of worker injuries are potentially preventable. This is where an ergonomic lift assist arm like the 3arm Pick & Place Manipulator can help prevent these injuries from occurring.
How to Choose the Right 3arm Ergonomic Lift Assist arm for your Needs
You must first determine how you will use the arm to identify whether you need a manipulator pick and place arm or a more customized lift assist solution designed for your application. While 3arm's lift assist "tool-holding" arms are used for permanently holding a constant load, such as a tool, the Manipulator arm is ideal for material handling and can move objects from one place to another or handle items that change in mass.
Primary considerations when choosing or customizing a manipulator arm:
Dimensions of the part
Travel path & distance of the part from the operator
Current process
Weight of the part
Axes of manipulation
Gripping the part
With these details, the team at 3arm can help you identify and design the perfect manipulator for your operations. They also help you determine the best end effector type, accessories and safety features for your needs.
Read more about how to determine the best design to help improve employee safety in our article "Build Your Own Lift Assist Arm: Top Factors in Selecting Equipment" on our blog and check out the features of the Manipulator in our video.
With today's tight skilled labor market, every advantage you can offer your current and future employees will reap benefits long after the investment in a 3arm Manipulator arm has been realized. Investing in safe and healthy operators creates employee loyalty, increasing retention rates and attracting the quality employees every company is searching for.
Contact us at 3arm America to see how we can design a solution to keep your valuable staff safe, healthy and productive.