Do you have a plan to keep your employees healthy?
Musculoskeletal disorders (MSDs) are the leading contributor to disability worldwide, with low back pain being the single leading cause of disability in 160 countries. According to the World Health Organization, individuals with musculoskeletal disorders account for approximately two-thirds of all adults in need of rehabilitation.  
MSDs refer to the performance of the muscles, bones, joints and adjacent connective tissues and are most often characterized by pain and limitations in mobility and dexterity. This reduces people's ability to work and participate in everyday activities.  
The cost of work-related MSD injuries is high, especially in manufacturing. Manufacturers must put a plan in place to ensure the health and safety of their workforce and reduce the likelihood of such injuries. For instance, removing the tool or part weight and torque absorption from an operator with an ergonomic solution like those offered by 3arm America can significantly mitigate injuries and improve productivity. 
How to identify workplace injury risk factors
Step One of the NIOSH guide helps you identify workplace conditions that put your employees at risk for MSDs, which can include:
repetitive motion

 

overhead work

 

poor shoulder and wrist posture

 

lifting heavy and/or bulky loads 

 

hand-arm vibration or whole-body vibration

awkward postures and twisting while carrying loads

 
Our 3arm team has seen examples of these types of workplace conditions and their resulting injuries, such as repetitive motion leading to injury. This is common when operators are tightening bolts in underbody work or in grinding applications. When conducting grinding or sanding work, the operator may be bending over the workpiece all day and there's vibration associated with the grinder itself. These tasks can result in the operator having injuries or strains associated with their hands, wrists and shoulders.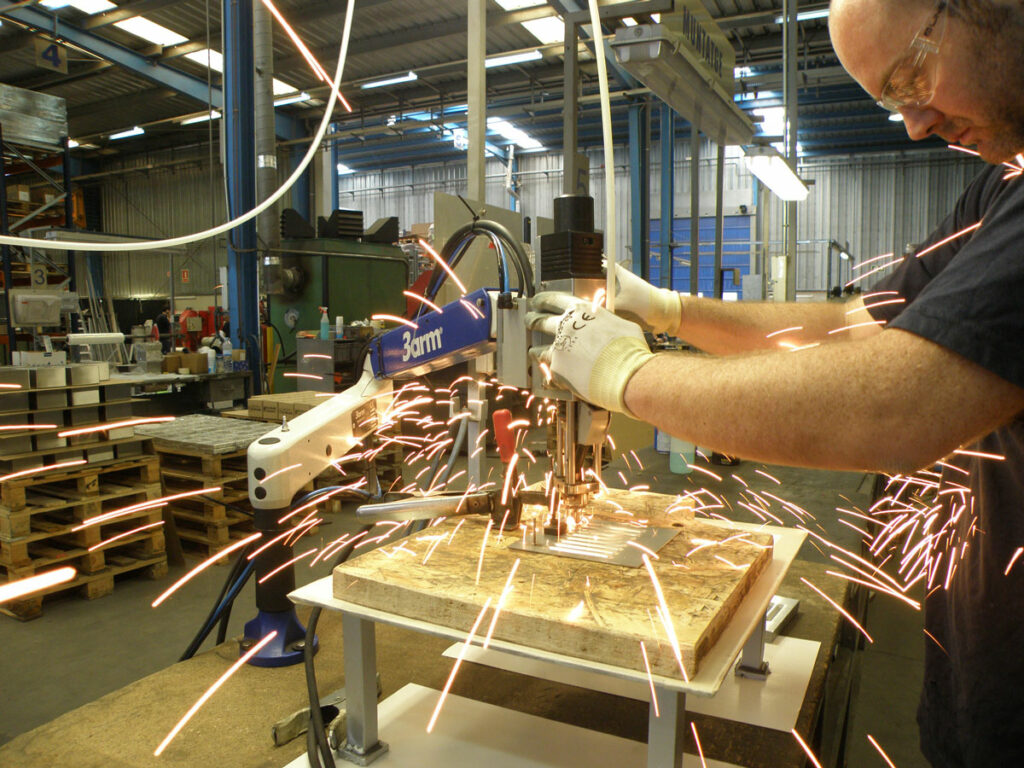 Manufacturers often come to us because they have encountered torque reaction injuries, generally in assembly applications. This can be an issue in any assembly work where there's torque associated, such as operators attaching fasteners with a nutrunner to a certain torque. Some of the torque specs can get high and result in serious injury to the wrist, arm and shoulder if the tool operator absorbs the torque. 
Many of these issues can be resolved by implementing an ergonomic lift assist solution by 3arm, whether it's one of our tool-holding series of arms or our pick-and-place manipulator arm. 
How to use ergonomic risk assessment tools
An important part of this process is to determine the scope and characteristics of the problem by collecting health and medical evidence of MSDs in your workplace. Step Three of the NIOSH guide provides a list of tools to help you compute the rate and incidence of MSDs in your workplace and assess the risks of the tasks your operators perform.
A tool we recommend is the NIOSH Lifting Equation App  (NLE Calc), a mobile application used to calculate the overall risk index for single and multiple manual lifting tasks. It looks at the object's weight, horizontal and vertical position, twisting angle, duration, frequency and coupling. 
It calculates the composite lifting index (CLI) for multiple lifting tasks and can be used to determine an acceptable weight for that task. NIOSH recommends that single or multiple lifting tasks have a (composite) lifting index lower than 1.0 and have documentation summarizing studies on the relationship between the composite lifting index and lower back disorders. 
How to prevent over-exertion injuries
NIOSH recommends targeting easy-to-implement ergonomic control solutions as part of your ergonomic program. In Step Four, they outline five approaches to control work-related MSD risk factors and found that elimination of risk is the most effective way to reduce MSDs. 
One way to eliminate many of the risks associated with lifting and repetitive motion tasks and protect your operators from MSDs is to have the team at 3arm design a lift-assist solution to address your specific needs. 
Implementing 3arm's easy-to-use technology with built-in safeguards will not only protect your current workforce but also expand your labor pool for future hires. In fact, recent studies found that implementing a work safety plan can give employers a competitive edge in recruiting and lead to greater productivity.  
You can use OSHA's Safety Pays tool to obtain information on the frequency and costs of work-related injuries and illnesses and determine the ROI of your investment. 
Protect your most valuable assets – create an ergonomic plan today and then consult with our experts at 3arm to design a lift assist solution for your organization.