Who doesn't want a production line with improved safety, quality and productivity? Every engineering team and operations manager is looking for ways to improve in these areas, especially with skilled labor difficult to find and retain. Adopting new technologies, such as ergonomic lift assist solutions, is a great strategy for production lines today. Specifically, ergonomic lift solutions are increasingly used to improve ergonomics and employee safety, increase production quality and reduce cycle times. 
Engineers may be looking for a way to move a component that is physically impossible for an operator to move alone. Or they may be starting up a new line and need a solution to lift a heavy or unwieldy part. 
Operations managers may need an ergonomic safety solution for parts that have proved too difficult for operators to handle unassisted, resulting in injuries or accidents. Or they may be implementing a continuous improvement plan, whether for ergonomic safety or productivity improvements.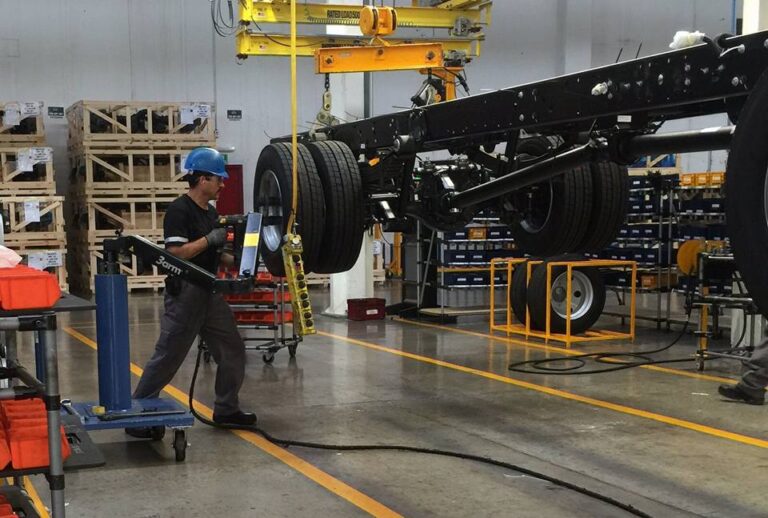 3arm has a wide variety of lift assist arms and a "pick and place" manipulator arm that can be designed with a wide variety of mounting options and accessories to improve ergonomics, reach and mobility: 
With an aging workforce and a short supply of skilled help, finding a solution to keep valuable employees and attract quality hires is imperative. It's generally recognized that any tool over 25 pounds should have a lift assist device for ergonomic and safety benefits for the operator. An ergonomic lift assist solution that can assist an operator with safety, load capacity, reach and range of movement is key. 
Assembly line problems and solutions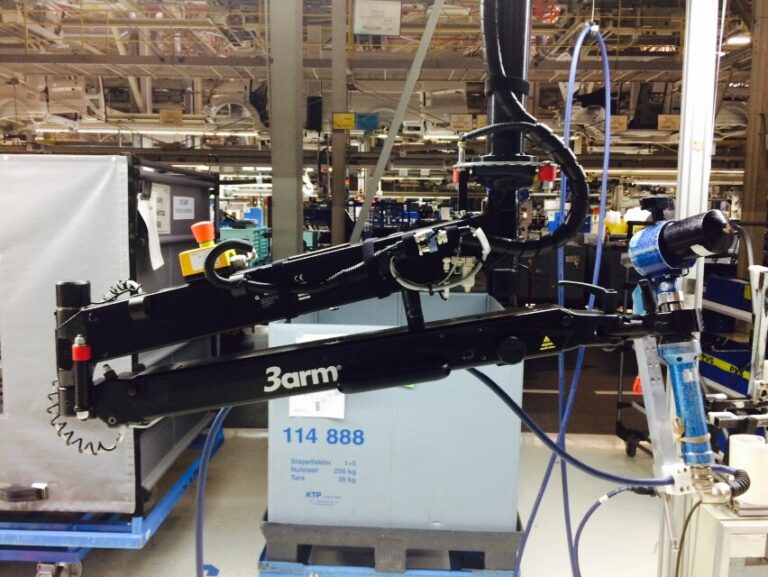 Several problems typical of assembly lines can be resolved with an ergonomic lift assist solution by 3arm America and their distributor partners. 3arm lift assist arms can be placed in mounting solutions such floor rails, tables, radial extensions, columns, elevators, beams and trolley carts to extend mobility and reach and reduce load. 
Load Capacity: 3arm lift assist arms reduce the load of industrial tools and repetitive injuries while using the tools. The arms can hold tools and instruments in a weightless state for the operator (the new Series 7 arm can hold up to 132 pounds). And with accessories to improve reach such as elevators, lifters, swing beams and more, operators can manipulate heavier loads with a greater reach than done manually.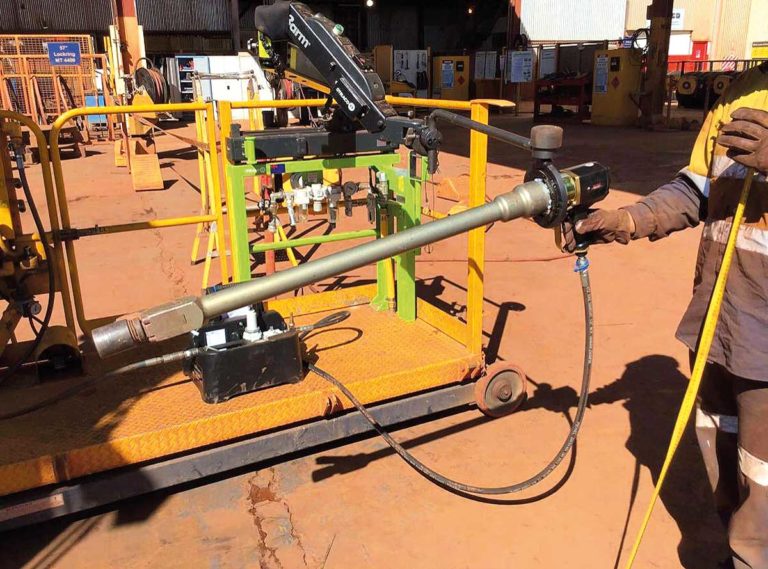 Reach & Range of Motion: In 2018, of all the cases of Days Away From Work due to injuries, approximately 30 percent were due to musculoskeletal disorders (MSDs). Overexertion, overreaching, twisting and repetitive motion are the primary causes of MSDs, adding up to a significant loss of profit for companies. Over 60 percent of worker injuries are potentially preventable with a tool balancer that helps operators extend their reach and range of motion ergonomically. For example, technicians that work in lift baskets can avoid overextending while working with a heavy tool by using a 3arm tool balancer on a balustrade support.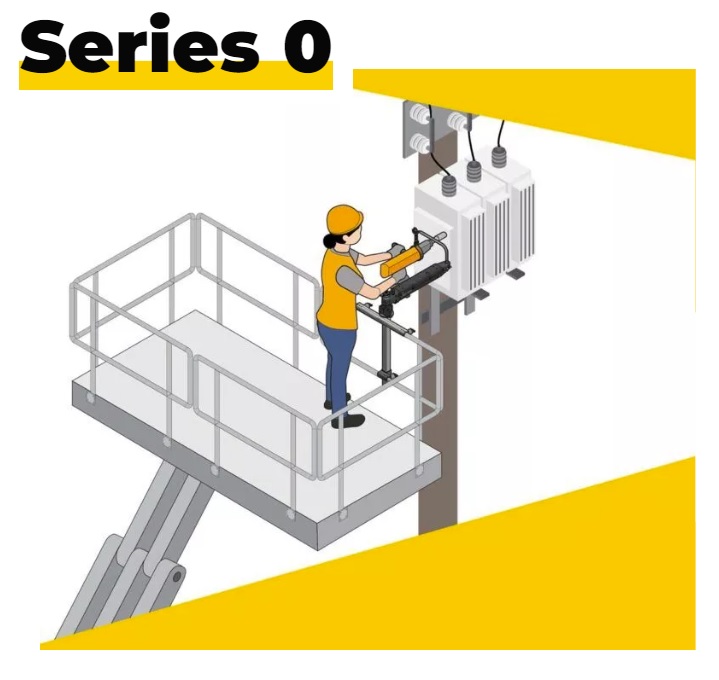 Safety: By rendering tools weightless, 3arm solutions with locking brakes allow the operator to work with increased precision and a full range of motion. Since the tool is attached to the arm, it cannot fall or be knocked off a surface, resulting in injury to the operator or to a colleague walking by. The arms safely absorb substantial torque and reaction forces plus alleviate the discomfort of working in contorted positions, significantly reducing accidents, repetitive motion injuries (musculoskeletal disorders) and missed days of work. Using a 3arm solution designed for your manufacturing needs allows your operators to work within safe reach zones and improves their health and safety, increasing employee retention and your reputation as a safe employer.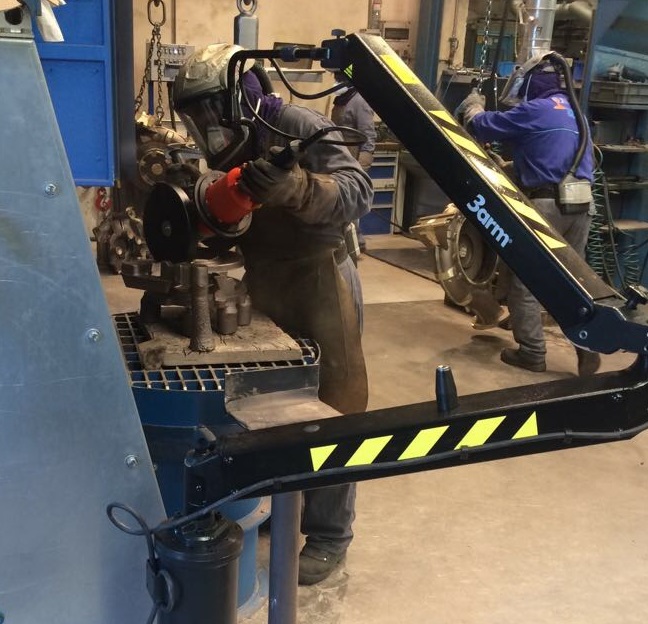 Quality: With a 3arm lift assist arm, tasks can be done with more consistent quality. Without one, an operator will become fatigued and sore throughout the day and quality will begin to lag. That's why 3arm's tool-holding arms improve precision, quality as well as ergonomics for employees. For fastening jobs, 3arm offers an Encoder for precision programming of a defined position and sequence, ensuring this task is done as specified. 
Productivity: By greatly reducing operator fatigue, manufacturers and assemblers can increase production, especially for awkward tasks such as underbody work on the automotive assembly line. Adding accessories like a trolley cart can optimize an operator's reach zones to increase efficiency and production. The optimal reach zone would keep all movements within a 24-inch radius of the worker's body. For example, an operator on an assembly line can use a 3arm solution mounted to a trolley cart to add mobility between stations. Engineers can improve assembly line balancing by using a trolley cart fitted with a 3arm holding two to enable one operator to do two different tasks at the same station.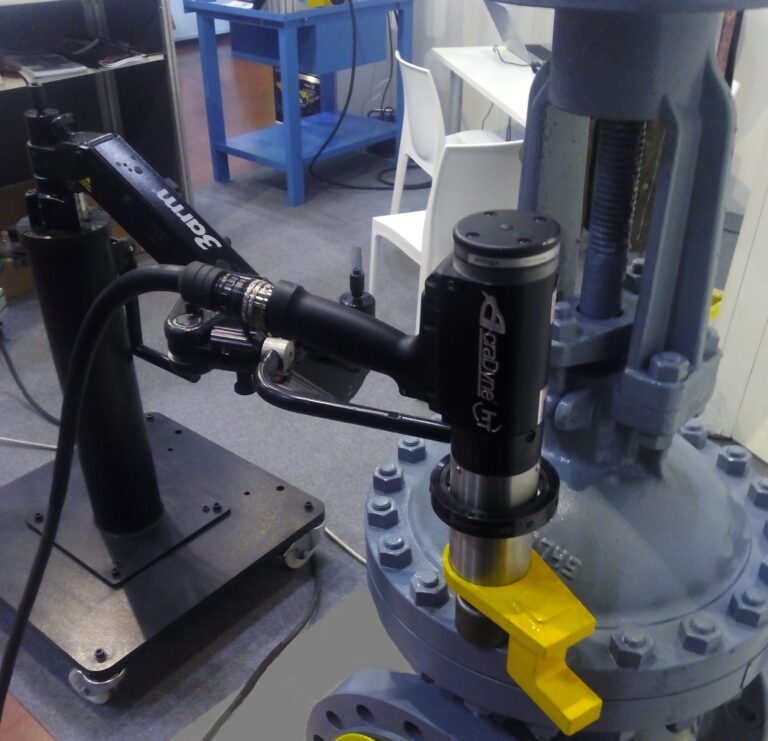 Ergonomics in manufacturing: Benefits of using a lift assist arm and accessories for reach and mobility
1. Increased Health & Safety 
Everyone in manufacturing is searching for good employees and working on ways to retain their quality workforce. One way to do that is to implement an ergonomic solution like 3arm that not only helps to keep employees safer and healthier, but also improves productivity. 
3arm tool balancers remove the weight of the tool from the operators and absorb the torque from tools such as impact wrenches and nut runners, significantly reducing the incidences of repetitive motion injuries or accidents. Engineers are more aware of the cost of employees hurt on the job and are gaining an appreciation of the benefits of implementing ergonomic tools like 3arm tool balancers. The benefits provide an easy cost justification by improving ergonomics and reducing pinch points and opportunities for accidents. 
Practical application delivered by 3arm partner Rhino Tool House: 
A manufacturer of agricultural machinery needed a solution to solve torque reaction injuries when operators fastened iron bolts to the heavy vehicles. They needed a way to keeping numerous operators at several locations safe from a torque force up to 200 Nm. The teams at 3arm and Rhino Tool House designed a rolling cart system that enabled the operators to operate a tool rendered weightless and able to move from station to station. The rolling cart was fitted with a 6' long 3arm tool balancer, making it easier for them to maneuver around large machinery. 
Their other option to solve this problem was a floor mounted arm that was 20' long, which was more expensive and less ergonomic. To move it from station to station would have been a monumental task. 3arm's solution was not only cheaper, but it took up less floor space.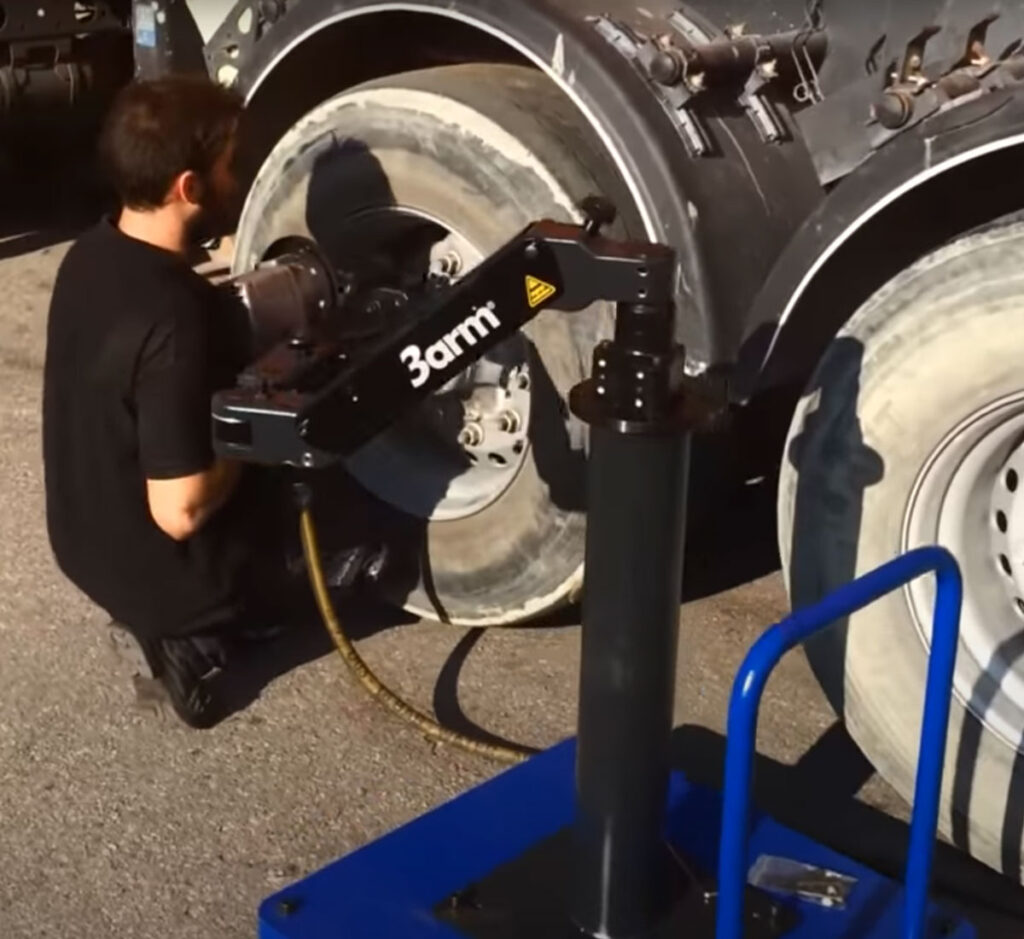 2. Optimized Assembly Line Balancing 
Assembly line balancing is a production design strategy to effectively distribute tasks among workers, machines and workstations. This strategy assigns a proper number of workers or machines for each operation on that line to meet a specified production rate with minimal or zero ideal time. Tools like the 3arm tool balancers allow two steps to be done by one operator at the same station, making the line more efficient. A 3arm pick and place manipulator can make an operator more effective by making awkward or heavy tasks easier, such as placing windshields in a vehicle, and thereby decreasing the time to do the task at that station. 
Practical application delivered by 3arm partner JLC Industrial:  
An automotive company was looking for a way to allow operators to fasten two different bolts on the underbody at one station, speeding up the assembly line. By creating a trolley cart solution fitted with two tools on one arm, the operator was able to get both shots in their exact locations at the same station. The company was able to reduce the number of operators at that station and reallocate the second person to another station.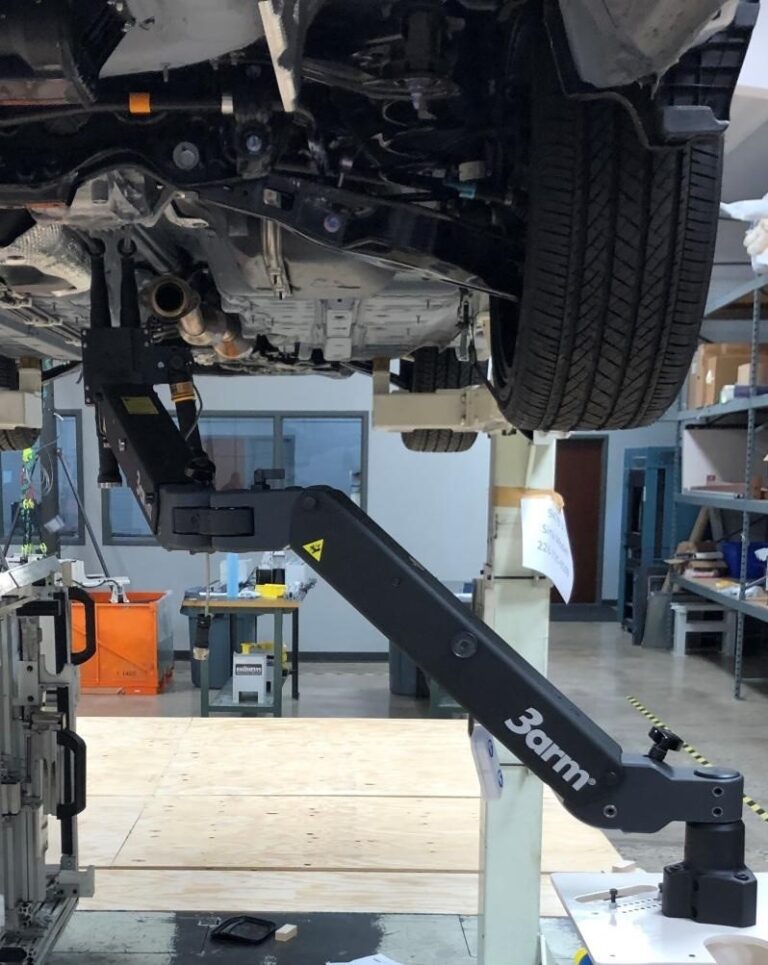 3. Reduced Factory Floor Space Needed 
More manufacturers are trying to condense their assembly lines and reduce the factory floor footprint. Using a smaller and more versatile 3arm cart solution allows manufacturers and assemblers to save on adding another bridge or piece of machinery hanging overhead. A 3arm cart can easily be brought into place and used, then taken out of the way and stored away from the assembly line. 3arm has a better ROI than overhead cranes and lifts, and having less bulky equipment on the factory floor makes a safer environment. 
Practical application delivered by 3arm partner Keystone Assembly Solutions: 
A manufacturer of heavy-duty trucks was looking for a way to provide their operators with a tool balancing arm that didn't consume the footprint of a large overhead lift or crane. Implementing a 3arm cart solution allowed for more operator flexibility on the assembly line while taking less space on the factory floor. As each truck came into a station, the operator had the flexibility of moving the small 3arm cart from one end of the vehicle to the other to work ergonomically on separate areas without absorbing a big footprint.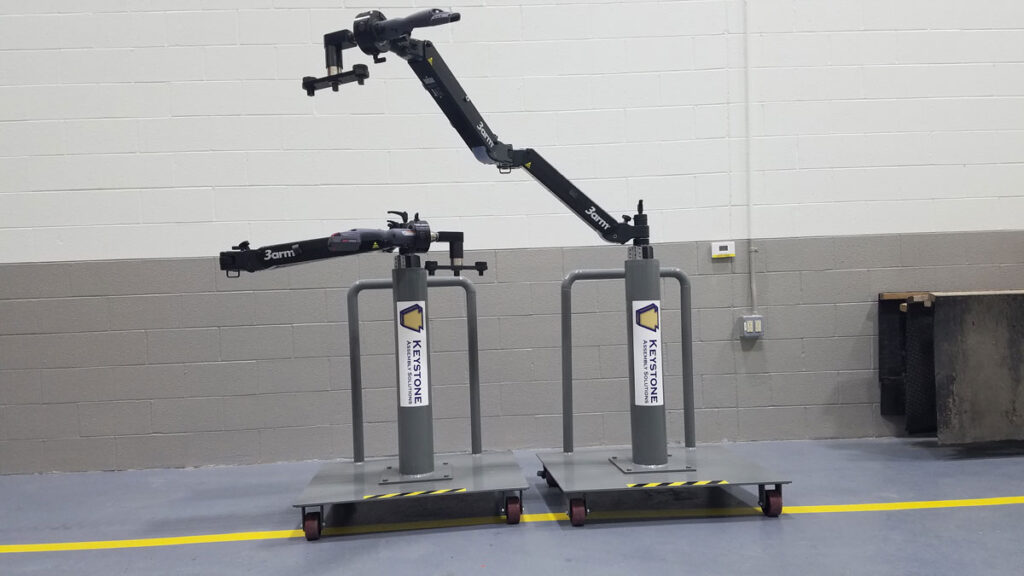 4. Increased Precision Control 
Many workers are aging out of the workforce and retiring and with that goes industry knowledge and expertise. Some fastening work requires that fasteners be placed in a certain order and with a precise amount of force. 3arm offers a solution that allows the programming of the Encoder SmartControl 3arm system to ensure precision programming of jobs that require a defined torque, tightening position and sequence. 
Practical application delivered by 3arm partner Keystone Assembly Solutions: 
Keystone Assembly Solutions worked with a manufacturer of medical implants as well as fiber technologies for diverse industries that required a specific fastening process for one of their products. The process required bolts to be fastened in a precise order, number of rotations and angle. By using a 3arm tool balancer with the Encoder SmartControl system, the process was virtually automated and completely standardized and completed to specification each time. It removed the human "fudge factor". If the process needed tweaking, the program could be revised so the new sequence and pattern, along with the correct torque and application of the force from the tools, would be done consistently. The operator could not do any other action except what was designed by the engineers.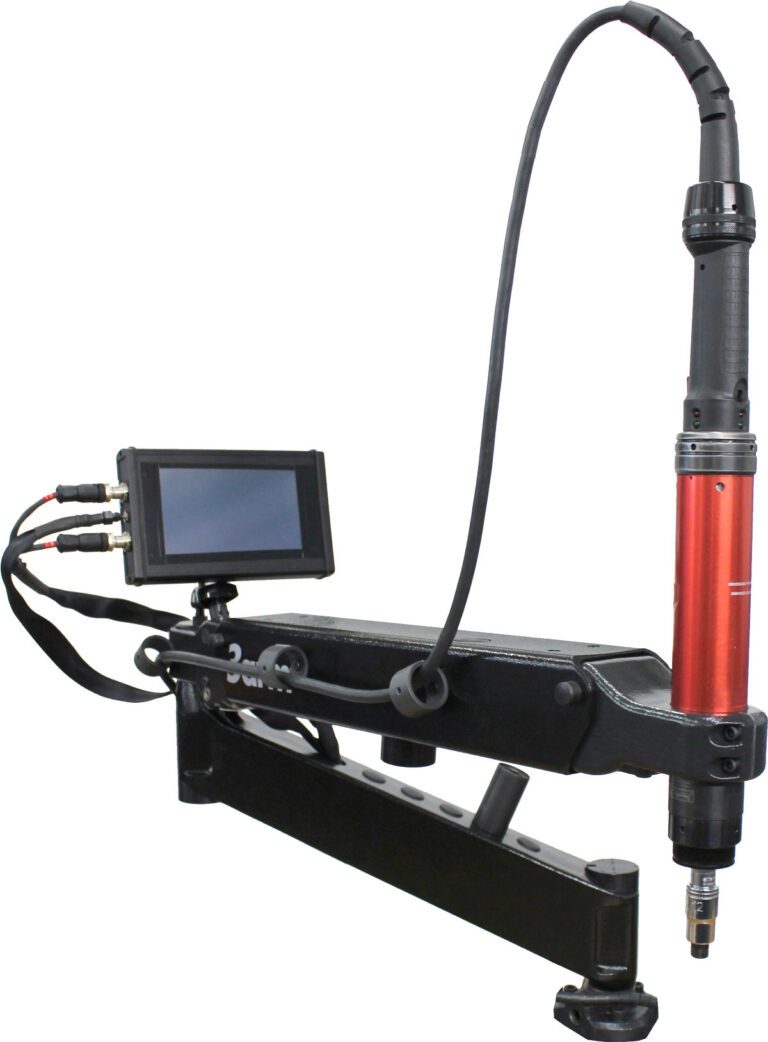 If you're looking to reduce operator injuries and improve production and quality without increasing your factory floor footprint, an ergonomic tool-balancer or manipulator solution by 3arm is your answer. We can design a custom solution for your needs that will be more economical and take up less space than many other floor mounted, crane or overhead solutions that typically come to mind. Contact us more information.